Excelling in your core Masters courses will certainly help you gain vital knowledge and skills in your chosen field, but it is the extracurricular activities that will help you stand out.
Take 2 minutes to complete our Masters survey!
For all the undoubted benefits of Masters programmes, students can do a lot more to gain an array of transferrable skills highly valued by employers. Fortunately, pursuing extracurricular activities is a wonderful way to attain these. They are not obligatory but are potentially invaluable in giving you a competitive edge in a crowded job market.
Sharpening the soft skills
There is a consensus among employers that there is a massive shortage of soft skills like problem-solving, critical thinking and adaptability in the current workforce. Research shows that companies are finding it increasingly difficult to recruit employees straight from the classroom. "The gap is there," Kyle Lagunas, principal analyst at talent management consulting firm Lighthouse Research & Advisory, told the Society for Human Resource Management. "Most colleges aren't building out the skills students need to become value-added employees." About 80% of companies cited difficulties finding better soft skills in the market, according to the 2019 Global Talent Trends report.
But data also shows that students' participation in extracurricular activities significantly improves their soft skills. Employers are therefore increasingly looking at job candidates' involvement in non-academic activities in an effort to understand their commitment to personal growth and potential possession of soft skills.
Taking up a placement or internship, especially with a company active in your chosen field, is highly recommended. You will not only be able to test your technical expertise in real-world conditions, but also take the measure of your soft skills in your daily interaction with colleagues. Even a short placement could significantly help you hone key skills such as prioritisation, communication, teamwork, and problem solving.
Discover your inner leader
Having realised that non-academic activities are vital for students who want to hone their transferable skills, many schools are now offering a wide range of extracurricular options. A research report by GMAC, the owner of the GMAT exam, states that "[b]ecause leadership skills desired by employers are attainable by students in graduate management programs, graduate management education plays a critical role in helping today's students develop into tomorrow's business leaders, and in assuring the future quality of the business management industry. Evidence suggests academia can best accomplish this role by providing students with ample extracurricular opportunities to practice and hone their skills, by enlightening students about the value of extracurricular activities, and by encouraging students to take part."
There are many possibilities out there that can help you develop your leadership skills. You could carry out your own project, do voluntary work, join a sports team, or get involved in student politics. Joining the student council is one of the best options in this respect. As a student council member, you will represent the interests of the student community. However, bear in mind that council members are typically elected and for your peers to elect you, you must have already demonstrated your leadership potential.
The debating team is another excellent opportunity to show your engagement in current affairs and your powers of persuasion. Many of the great leaders were also great debaters. Hint: Winston Churchill.
Read: 5 Extracurricular Activities That Will Boost Your Leadership Skills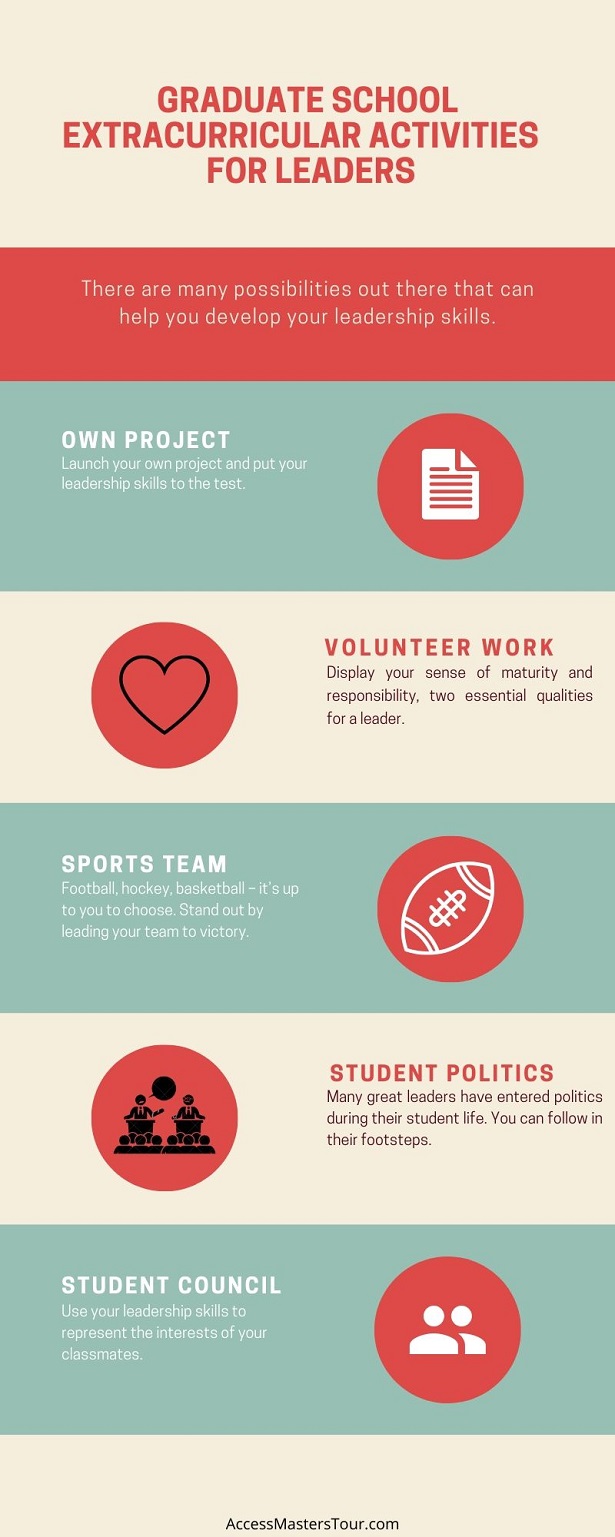 Greater self-awareness
One of the reasons non-academic activities set you up for career growth is because they help to improve your self-awareness. Chris Davison, careers adviser at Durham University (UK), told prospects.co.uk that "extra-curricular activities help students to learn about themselves and develop and use their skills and knowledge in different contexts."
However useful these activities may be, students are still reminded not to overstretch themselves by pursuing too many of them. Pick the ones you actually enjoy and don't just participate to make your CV more impressive. When it comes to placements, take your career plans into account. Molly Burkmar, who is studying for a Master of Physics, astrophysics and cosmology at the University of Portsmouth (UK), decided to apply for a placement in her second year at Winchester Science Centre. "By undertaking a placement, I've gained so much experience that I can use to help me with the rest of my degree and when applying for jobs. I would really recommend completing a placement in an area you are interested in as there are a lot of job-specific skills that cannot be taught at university," Molly told Physics World.
While pursuing all these extracurricular activities, do not forget to have fun. You will meet new people and embark on a journey of self-discovery that will benefit not only your career but also your personal life. Non-academic activities are also a great opportunity to strike a healthy balance between studying and your social life. And one day, during your job interview, they could make all the difference.