Ask university graduates and most will tell you that being a Master's student was among the most stimulating and exciting times of their lives. If only they could turn back time...
► Browse top schools to find the best for you.
There is something invigorating about studying for a Master's degree. The process of learning new things, the constant stream of interesting people in your life, the challenging but interesting projects, and of course, the parties.
Access Masters has compiled seven reasons for enrolling in a Master's programme.
Lasting relationships
As a Master's student you are going to meet many new people. You will find new friends and build relationships that may last a lifetime. The more activities you take part in, the more people you will meet. Just take care not to overstretch yourself – there are only so many projects and extracurricular activities you can participate in.
In terms of professional networking, internships are arguably the best activity. Alexis Grant, staff writer at U.S. News, points out: "This is the most obvious option, but it can't be overstated. The value of an internship is tremendous, both in terms of skills and contacts. Employers often hire full-time workers from their internship pool, which means having an internship puts you ahead of other job seekers."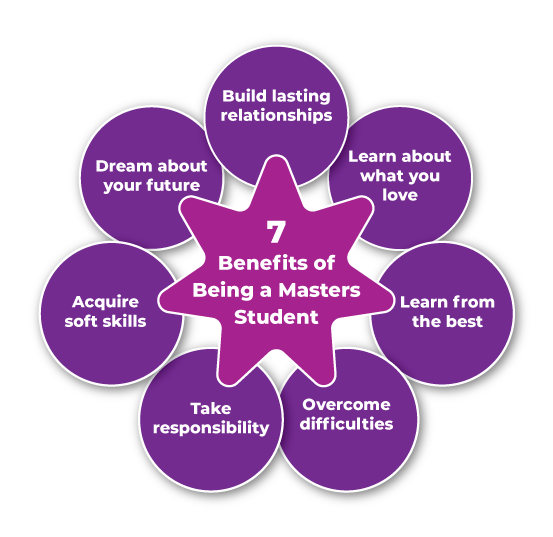 Learning more about what you love
Most of the people who pursue a Master's degree are doing so because they want to learn more about a subject they genuinely love. For instance, if you are interested in Physics, you may choose to obtain your Master's degree in Physics with Nanophotonics, which deals with the interaction of photons with matter at the smallest of scales, or Physics with Quantum Dynamics, which studies quantum optics and systems. As you gain more niche knowledge, you improve your chances of standing out in a competitive job market. And all this while you are having fun!
Learn from the best
While you pursue your interests, you will have the support of some of the leading thinkers in your field. They can be a great source of motivation, especially if you want to reach their level one day. In addition, you will be surrounded by your classmates. Typical undergraduate students are younger and have no professional work experience, but at graduate school you will have more experienced peers ready to share their knowledge and different perspectives.
Overcoming difficulties
Don't be fooled though, Master's studies are not a walk in the park. You will have to deal with challenging projects and exams. You also may encounter some difficulties outside of universities, for instance at your job or internship. Or you may find it hard to find the perfect room to rent or apartment to share. You will face your fair share of challenges but if you are serious about your intention to obtain a Master's degree you will overcome them.
Tara Bell, who studied Media and Communications at the London School of Economics and Political Science, wrote in a blog post: "Yes, I have been afraid, yes I have thought that I was not good enough to be here. But I know that I'm not the only one. As long as you put the work in, and reach out to friends and professors who you feel comfortable talking to, you will make it through."
A great thing about overcoming challenges is the sense of accomplishment you get afterwards. Getting your degree will improve your self-esteem and give you the confidence that you can solve every problem, no matter how difficult.
Learn to take responsibility
Postgraduate studies will give you much more freedom than your undergraduate programme. But more freedom also means more responsibility. On an academic level, you will spend much more time researching and writing. Kody Kuehnl, dean of the College of Arts, Sciences & Technology at Franklin University (US), says: "You will be reading and researching a great deal. Your study habits will need to be tighter and smarter."
Besides, you will be able to shape your curriculum according to your interests, which may prove difficult if you don't have a clear idea of what you want to achieve at university. And that is only the academic side of things. Most Master's students have jobs or internships. Then there are the extracurricular activities, which can be a useful embellishment on your CV and provide you with great networking opportunities. If you haven't already, you need to learn to juggle commitments efficiently.
Read: How to Choose Your Masters Electives (Interview)
Acquiring soft skills
You may have missed it, but there is a significant soft skills gap in today's workforce. This may surprise you, especially if you are used to hearing about the importance of having tech expertise in a world transformed by technology. Tech expertise is indeed useful, but it is soft skills that employers want to see more of.
Master's programmes offer great opportunities to gain soft skills. Master's students are typically involved in many group projects which involve teamwork and communication. In addition, extracurricular activities enable participants to test their interpersonal and leadership skills.
Read: 5 Extracurricular Activities That Will Boost Your Leadership Skills
You've got your whole life ahead of you
Many associate their time as Master's students with unlimited opportunities, excitement about the future, and a general sense of purpose. Knowing that you can be one of the best in your field and can work anywhere in the world is enough to give you a feeling of enjoyment and enthusiasm for life. Being a Master's student is a time full of dreams. It is up to you to realise them.